Juan Carlos Muñoz
Juan Carlos Muñoz has studied with Sylvain Dagosto in France. He is a graduate of the Conservatoire d'Esch/Alzette and graduated in the mandolin from the «Hochschule für Musik» in Cologne after studying with Professor Marga Wilden-Hüsgen.
While still very young he embarked on a concert career, giving pride of place right from the start to constant and ever deepening study of the Baroque mandolin and early music in general. His busy solo schedule has taken him to Japan several times, as well as the USA, Canada, France, Greece, Spain, Italy, Germany, Switzerland, Latvia, Poland, Belgium, the Netherlands, Luxembourg, and Iceland.
He has also initiated many musical projects of his own, including the creation of numerous ensembles (Duo Calace, Luxembourg Mandolin Quintet, Duo Muñoz-Pavón, Il Forum Musicale, Artemandoline). He is co-founder of the Stage International de Mandoline et de Guitare and artistic director of the First International Mandolin Competition in Luxembourg. With the ensemble Artemandoline, formed in 2001, Juan Carlos Muñoz chose to go back to the original documents in order to establish the true pedigree of this incomparable family of instruments.
He had made a major contribution to launching a movement to encourage musical freshness and rigour. To ensure that music composed in the past does not sound like mere 'early music' in the present, the performers must manage to be sufficiently free, spontaneous, anticipative and astonished in their intimate act of creation and the newness it engenders. Juan Carlos Muñoz spend his lives searching out and reviving forgotten masterpieces of the mandolin repertory.
He's not content with simply presenting his finds like 'musical archaeologists', but endeavour to transmit them to the wider public by means of the essential act of communication between interpreters, composers, and listeners. He is regularly invited to give masterclasses throughout Europe, USA and in Japan and takes part in a number of international competitions as a jury member (Spain, Japan, Germany, Italy, Belgium..). He teaches the mandolin and chamber music at the Conservatory of Esch/Alzette (Luxembourg) and at the «Hochschule für Musik» (University of Music) in Saarbrücken (Germany).
Mari Fe Pavón
Cradled to the sound of the guitar since childhood, Mari Fe Pavón begins the study of the mandolin at a very young age with the teachers P. Chamorro and Caridad Simón and thus discovers a few years later the experience of orchestra and soloist in the orchestra of her city, under the direction of Pedro Chamorro. She also began studying guitar with Manuel Muñoz. She recorded her first record at the age of 15 with the same ensemble, and subsequently studied at the Conservatory of Alcázar de San Juan (Spain) and at the Conservatory of Music in Esch / Alzette in Luxembourg.
Mari Fe Pavón has appeared in concerts with musicians such as Mstislav Rostropovitch and Estebán Sánchez. Later, she studied with French guitarist Michel Sadanowsky in Paris and was a member of the "Trio de guitares de Paris". Also interested in the search for unknown historical repertoires, Mari Fe Pavón learns the baroque mandolin and thus discovers the historical interpretation.
Very soon passionate about this experience, she studied with Prof. Marga Wilden-Hüsgen at the Hochschule für Musik Köln. She has concentrated her apprenticeships, research and musical practices on the diversity of sources, oral and written, which she deems necessary for recreating the early and Baroque mandolin repertoire today. At the same time, she founded several ensembles (Il Forum Musicle, Duo Muñoz-Pavón, Luxembourg Mandolin Quintet, Stage International en Alsace, Artemandoline) with Juan Carlos Muñoz and very quickly she gave concerts throughout Europe and the USA, Canada, Japan, Spain, Germany, Netherlands, Belgium, Austria, Greece, France and Italy).
She is regularly solicited by the Philharmonic Orchestra of Luxembourg. She is also invited as a jury member in various international competitions: Luxembourg, Greece, Germany. She teaches mandolin, guitar and chamber music in Luxembourg. Mari Fe Pavón is co-founder of the ensemble Artemandoline, with the mandolinist  Juan Carlos Muñoz.
Manuel Muñoz
He obtained his diplomas in guitar and plectrum instruments, (bandurria & mandolin) with Pedro Chamorro, José María López and Antonio J. García Mengual. He was member of several plucked strings ensembles: «Trio Chamorro», the «Roberto Grandío» orchestra , the Duo «Chamorro-Muñoz», the«Nacional Ensamble» orchestra, the European orchestra «Il Forum Musicale», and the «Luxembourg Mandolin Quintet». He has performed in concerts in the USA, Japan, Luxembourg, Spain, Morocco, Germany, Switzerland, Mexico, Cuba, and the UK.For several years now he has been concentrating on the baroque and renaissance guitar in the baroque music ensemble "Artemandoline" He is currently teaching at the Conservatorio de Musica of Ciudad Real (Spain).
Alla Tolkacheva
She studied music at the Académie de musique of Samara (Russia) with Larissa Demtchenko, where she obtained her graduate diploma for domra with distinction. Following this she specialised at the Conservatoire de musique of 'Esch-sur-Alzette (Luxembourg) with the mandolin teacher, Juan Carlos Muñoz, there she gained her graduate diploma and concert diploma ( neapolitan and baroque mandolin) She obtained a second prize in the Russian national competition (domra).
She has been awarded several first prizes in international competitions with the famous domra ensemble "Classic Domra". followed by tours in Japan, Germany, Spain, Denmark, Switzerland, Italy, and France,… The Samara Symphony Orchestra regularly invites her. She has recorded two CD's with the «Classic Domra» orchestra (1994-1997). In 1999, she performed with «Tanztheater der Komische Oper Berlin» for the Lionel Hoche Ballet «Purple Dreams», music by O.Respighi in Berlin and Aalborg.
In 2002, she won second prize in the « Osaka international chamber music competition». In 2008, she won first prize and the people's choice award at the international «Yasuo Kuwahara » competition for mandolin solo at Schweinfurt (Germany). She is currently teaching mandolin at the Pétange School of Music, voice and music training at the Conservatoire de musique of 'Esch-sur-Alzette.
Jean-Daniel Haro
After his studies at the Conservatoire of Metz where he obtained a first prize for recorder and sight-reading with Christian Billet, he studied the viola de gamba with Jay Bernfeld at the Conservatoire of St Cloud, Paris, where he obtained a first prize in Early Music. He graduated from Metz University, France in Musicology.
He currently plays with several ensembles and gives concerts throughout Europe with: "Fuoco e Cenere" at the Festival d'Ambronay and the Concertgebouw of Amsterdam, "Il Nuove Musiche" at the Festival of Flanders, in Bruges, in Ghent and in Courtrai, with "Trio Haro" in the French Basque region, with «La Psallette de Lorraine and the "Ensemble Contrepoint" in Luxembourg…He taught the viola de gamba at the Conservatoire of Nancy from 2008-2009. He is currently a secondary school teacher of music in Metz (France).
Jean-Christophe Leclère
Winner of the International Organ Competition in Bruges, Jean-Christophe Leclère, a qualified medical doctor and osteopath , is the resident organist at the Notre-Dame de l'Epine Basilica in France. He brings this gothique splendour to life during the "Festival de Musique Sacrée "(mid-september ; organ , early music , theâtre , circus arts …) and coordinates the Triangle d'Orgue of Champagne .
Inspired by the small XVIIIth century Saxon instruments he initiated a project for a transportable organ.He entrusted the building of this rare, travelling, adaptable piece to the belgian organ builder Rudi Jacques. Numerous European concerts and prolific discography, he celebrated his 20th CD in 2010 ( from San Petronio de Bologna to Ciergnon , Flanders to Saxony , from Geneva to Roskilde…) Presenting solo concerts or with rare singers such as: Catherine Greuillet, Christine Maria Rembeck, James Bowman , Alain Buet , Christophe Laporte and George Poplutz. Makes chamber music with faithful friends: Philippe Couvert (violin), Patrick Beuckels (traverso) Christine Plubeau, (viola da gamba) Christophe Mazeaud (oboe) William Dongois (cornett).
Cooperates with vocal and instrumental ensembles, including the Académie Sainte Cecile , Philippe Couvert, les Trompettes des Plaisirs, Jean François Madeuf , Magdburger Kammerchor, Lothar Hennig, the Uppsala University choir, the William Byrd Ensemble, Graham O'Reilly, Choir of Clare College (Cambridge) Vocal Concert Dresden -Peter Kopp, the Leipzig Bach -Ensemble-Jürgen Wolff, the Birmingham Ex Cathedra Choir- Jeffrey Skidmore, Capella de la Torre – Katharina Baüml. He participates in alternative programmes including "Stella Maris" (arabic songs) with Habib Guerroumi – oud & Angélique Mauillon – harp, "Ps'altarello" (traditional Italian songs) with Pierre Hamon- flutes and bagpipes & Carlo Rizzo – tambourines; and "Toccata, Tango & Fugue" with Per Arne Glorvigen – bandoneon & Marina Bartoli – soprano.
Ye'ela Avital
Studied at the Music and Dance Academy in Jerusalem and the Hochschule für Musik in Mainz, Germany. Today she lectures in the Music and Dance Academy in Jerusalem. She frequently performs alongside well known European artists and conductors, such as: Andrew Parrot, Mathew Halls, Tim Brown, Rene Jacobs, Philipp Picket and more, in concerts and recitals in Israel and abroad.
As a soloist, Ye'ela has performed with leading Israeli orchestras such as the Israeli Camerata , the Barocade , The Jerusalem Symphony orchestra, and more. She participated in International Festivals where she received Prizes such as the Prize of the best concert in the Early Music Festival in Crοatia, and the Concours International de Chant Baroque in Chimay, Belgium. Since 1998 she has been the recipient of the Israeli American Culture Foundation scholarship, and in 2010 became an examiner in the Foundation.
She also got a scholarship from the "Fondazione Giorgio Cini" in Venice and worked with the conductor Rene Jacobs. She performed in London (the Wigmore Hall), Venice, Budapest, Germany, Sophia the U.S, and more.
Doret Florentin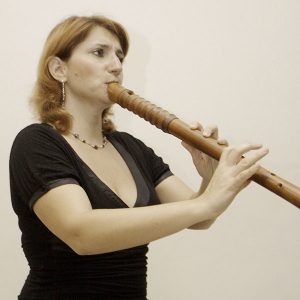 Native of Thessaloniki, Greece. At a very young age, she began her recorder studies in Greece under the guidance of the French/Greek teacher Gilles Gourdier. During her childhood she had the opportunity to try additional instruments but has stayed loyal to the recorder and at the age of 18, Doret decided to move to Israel in order to continue her studies.
At Tel Aviv University, she studied with Bracha Kol and Shlomo Tidhar and received both her B.A. and M.A degrees with honours, as well as a B.A. in Mathematics and Statistics. After finishing her studies for the First Phase Degree in The Royal Conservatory of The Hague with Sebastien Marq in 2002, she acquired her Second Phase degree in the same school, under the supervision of Dorothea Winter and Peter van Heyghen. Later on, she studied the historical bassoon with Donna Agrell and with Alberto Grazzi to acquire her First Phase degree in June 2007.
She has held a grant from the America-Israel Cultural Foundation during her studies. Doret's rich concert experience includes playing in projects with Nicholas Cramer, Gabriel Garrido (Academy of Ambronay), Nigel North, Ton Koopman, Jos van Immerseel (NJO), as well as recording for the Israeli and Greek Radio.
She has performed with various groups in international festivals in Holland, Spain, Belgium, Switzerland, Germany, Greece, England, France and in all the main venues in Israel (Festivals of Abugosh, Yehiam, Hag shel Hahagim and more). She is a founding member of the groups "Me La Amargates tu", "Divina Insania" and "Mezzo" with which she has been performing regularly around the world as well as with other chamber music ensembles.
Since 2008, she has been living in Israel, where she performs in major venues and teaches recorder, recorder ensemble, methodics on the recorder and baroque ensembles at various places in the centre of Israel such as: the Levinsky College- School of Music Education, the Conservatory for children in Kiriat Ono and the Department of Music of the Kiriat Sharet High School in Holon.
Gideon Brettler
Gideon studied at "Mannes College of Music" in New York. He received his undergraduate degree from the "Rubin Acadamy of Music" in Jerusalem where he studied with Prof. Joseph Urshalmi, a postgraduate degree studying with Laura Young at "Escuela Luthier" in Barcelona, and an MA in musicology from Tel Aviv University. He is currently a studying towards a PhD in musicology focusing on the development of the guitar in the 17th century.
In 2005 he won first prize in the Israeli National Guitar Competition as well as special prize for the best interpretation of Spanish music from the Spanish Embassy in Israel. His repertory includes Baroque, classical and contemporary music as well as Jewish and world music. He has performed in various venues and festivals, including the Barcelona Guitar Festival, Guitar Gems (Israel), Abu Gosh Festival for vocal music and the "Kol Hamusica" Festival in Kfar Blum. Gideon has performed as a soloist and a chamber musician in Israel, Europe and the U.S. He has performed with numerous chamber ensembles and orchestras in Israel and Europe, including the Israeli Chamber Orchestra, the Israeli Opera, Ensemble Mezzo, and as a soloist with the Israeli Sinfonietta Beer Sheva.
Davina Florentin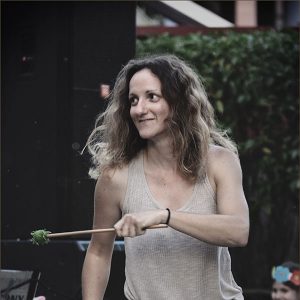 Born in Thessaloniki. She started her studies in classical percussion at the age of 8 with Konstantinos Hanis at the Thessaloniki Contemporary Conservatory, where she received her diploma with an excellent degree. She has attended seminars and masterclasses with internationally renowned soloists (Keiko Abe, N.Gergelly, B.Cobham, H.Rafaleidis, D.Desylla).
In 2006 she participated in the percussion contest: "International Competition of Percussion Instruments and Drumset". In 2009 she won the third prize at the Panhellenic Percussion Competition organized by the State Orchestra of Thessaloniki. She collaborates with the State Orchestra of Thessaloniki as well as with the Symphony Orchestra of the Municipality of Thessaloniki. She works with youth percussion groups as well as with disabled people.
Davina teaches percussion at the Neo Conservatory of Thessaloniki and the Polyanio Conservatory of Kilkis.
Εlektra Papasimakis
She grew up in Ikaria, where she took the first music lessons from Efi-Birtacha Kalokairinos. She then studied classical singing at the Athens Conservatory and the Conservatory of N.Mantzaros, where she received her singing diploma in 2010 with Professor Mechtild Stamatakis. At the same time she studied recorder and interpretation of Early Music with Dimitris Kountouras. She is a teacher of the Hellenic Bamboo Flutes Association and holder of the Harmony, Counterpoint and Fugue degrees.
Further she continued her studies in Germany at the Hochschule für Musik in Trossingen and received her Master of Early Music in Singing with Professor Jan Van Elsacker. In addition, as a second subject she studied Medieval music with Kees Book, Claudia Cafagni and recorder with Sussana Borsch.
She also studied music with specialization in Oratorium and Early Music at the Vorarlberger Landeskonservatorium in Feldkirch (Austria) with Clemens Morgenthaler and Choir conduction with Benjamin Lack.
She has taken part in productions and concerts at the Concert Hall of Athens and Thessaloniki  as well as in numerous recordings and concerts. She is a founding member of the early music ensembles Ritornello and Quasimodo and has the artistic direction of the ensemble Musick Room specializing in H.Purcell's theater music. During the last years, she has been living and working in Konstanz, Germany, conducting choirs, teaching singing and performing in concerts in Germany, Austria and Switzerland.
Stefanie Köpfler-Bertels
She was born in Wetzlar and took her first piano lessons at the age of 5. She studied church music at the Hochschule für Kirchenmusik in Rottenburg/Neckar.
Further she took her Music teacher degree with Prof. Gerd Witte, her artistic degree with Prof. Christoph Bossert and her degree on historical organ with Prof. Andrea Marcon at the Staatliche Hochschule für Musik in Trossingen
She attended master classes for organ with Andrea Marcon, Michael Belotti and William Porter, as well as for choral conducting with Knut Nystedt. She has studied harpsichord at the Musikhochschule in Trossingen with Prof. Marieke Spaans.
From 1987 to 2017 she worked as a church musician at the Heilig-Geist-Kirche Balingen, founded and conducted several children, youth and adult choirs, founded the concert series "Kirchenmusik in Heilig-Geist" (Church Music in Heilig Geist), and founded an organ association to support the purchase of a new organ. Choir tours took her to Budapest, Vienna and Paris.
Since 2015 she has devoted herself primarily to the composition of piano pieces, and so far she has recorded the two CDs "Glance at the Sky" and "Flow".
Nikos Panagiotidis
He is one of Greece's leading guitarists and is lauded as an accomplished bandleader, soloist, educator and multi-instrumentalist. He has collaborated with well-known Greek singers and has appeared in countless concerts, recordings, and broadcasts for radio and television. He has produced the soundtracks for several documentaries and ran his own radio shows for local and national stations throughout Greece, notably on early music for Radio 3.
A specialist in medieval, Renaissance and Baroque traditions, Mr. Panagiotidis plays lute, theorbo and Baroque guitar with various ensembles throughout Europe. He has toured and recorded with the Blanmerle Ensemble, including their "Italy & Spain" release featuring 17th century composers. He is a permanent member of the Thessaloniki-based ensembles Codex (Medieval-Renaissance) and Concerto Ellenico (Baroque). As musical director and continuo leader, he led a performance of Jacopo Peri's "Euridice" at the 1999 Delphi Festival. He also directed a performance of Antonio Vivaldi 's "Olympiade" with the Volos Symphony Orchestra, which was sponsored by Greece's Ministry of Culture as part of the 2004 Athens Olympic Games calendar of events.
As an educator, he has been teaching guitar, music history, and music theory at the Athens and Volos Conservatories since 1982. He also teaches lute and Basso Continuo and offers masterclasses on Renaissance and Baroque musical interpretation. He firmly believes Baroque music is an invaluable discipline and focuses on understanding musical texts, language and stylistic considerations.
An Athens native, Mr. Panagiotidis studied the classical guitar with Dimitri Fampas and Roberto Aussel, harmony with Yanni Avgerinos and counterpoint with Michael Travlos. He received his Master's in Early Music at the Guildhall School of Music & Drama in London, where he studied lute, theorbo, and Basso Continuo with Nigel North.
ANGELOS REPAPIS
Angelos Repapis began his studies on the double bass at the Athens Conservatory, under prof. A. Tzoumanis.
He continued his studies at the Rotterdam Conservatory under prof. H. Roelofsen and graduated with the diplomas of teaching and performing artist.
Parallel to his studies on the double bass, he studied the viola da gamba at the Utrecht Academy for Fine Arts under prof. A. Pols and graduated with the diploma of teaching artist.
He collaborates with most of the Greek Early Music ensembles, promoting the historical interpretation of baroque music.
He teaches viola da gamba at the "Classical Conservatory" in Athens.
As a double bass player, he is co-principal with the Athens State Orchestra, professor at the Ionian University, at the "F. Nakas" Conservatory and the American College of Greece.
He plays on a viola made by P. Jaquier.